Choose to live your life with passion, presence and purpose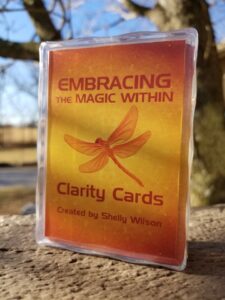 Shelly Wilson has created this deck of inspirational and empowering Clarity Cards to remind us to embrace the magic within. Much like the Cards of Empowerment deck, I was inspired to create this deck as a divination tool to accompany the book, Embracing the Magic Within, and to empower you to connect to the you within. I purposefully have chosen not to include detailed instructions with this deck of cards as I encourage you to explore and use them as you are guided to do so.
You can simply choose to ask the question, "What do I need to know for today?" and then pull a card or as many that you feel led to pull. For those appreciating additional assistance with the cards, please download a pdf file with my interpretations of the individual cards.
---
Embracing the Magic Within: Clarity Cards
All of the answers you seek can be found within if you take the time to listen. ~ Shelly
2.5″ x 3.5″ (55 cards)
52 message cards, title card and author card
See images below to view examples from deck
Packaging: custom plastic box
Purchase cards here






---
Testimonials for Clarity Cards
"I use Shelly's Clarity Cards daily. I seem to connect and resonate with each card that calls to me." ~ Brenda Andrews